Santiago's hilly neighborhoods, Atacama's starry nights and the mysteries of Easter Island.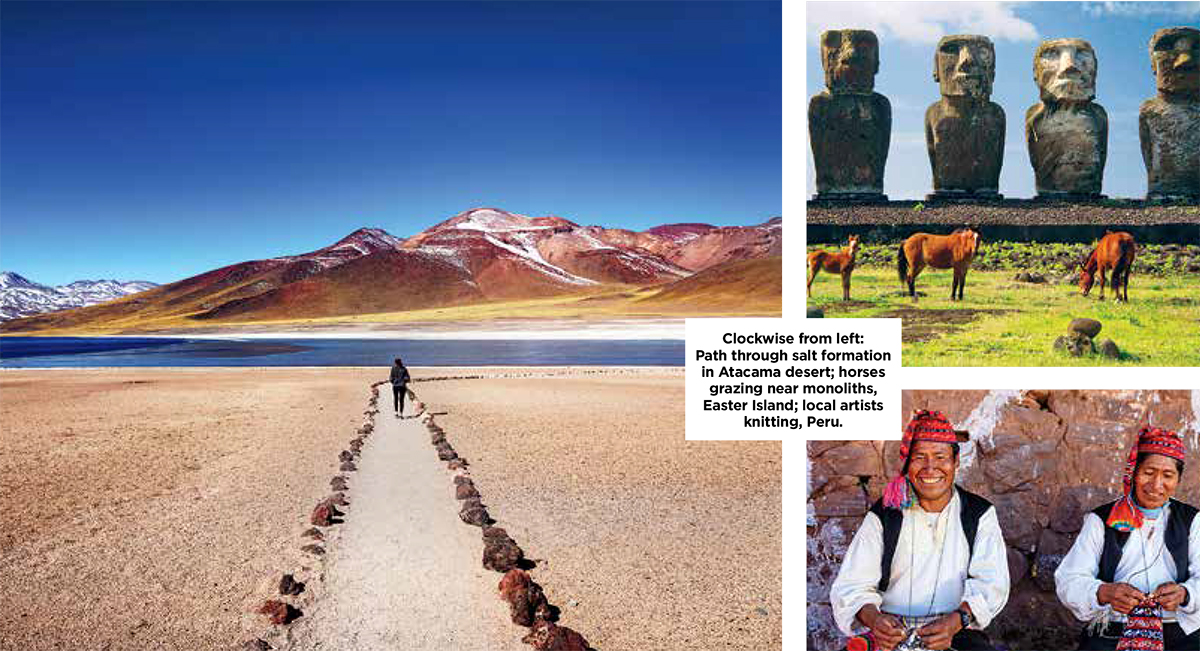 Neruda Musings
Take in uninterrupted mountain views on Santiago's San Cristóbal Hill, then descend by cable car to La Chascona — former home of Pablo Neruda. At a nearby restaurant, learn more about the Nobel laureate's life and work while sipping pisco sours. Your three days in Santiago are part of an essential South American tour that includes Puerto Varas, as well as Rio de Janeiro, Buenos Aires and Iguaçu Falls.
Ancient Faces and City Life
Skyward-gazing moai are the eternal inhabitants of Easter Island, and the luxurious explora Rapa Nui is your home for three nights. Hiking and cycling will deliver you to the fascinating monoliths
(nearly 900 in all), as well as to natural sites like the Rano Kau crater and the white sand beach of Anakena. This nine-day tour includes a couple of days in Santiago, as well as two nights in the heart of Chile's wine country.
Arid Expanse
Float effortlessly in the salty Cejar Lagoon in the Salar de Atacama, with the Andes in the distance and pink flamingos perambulating about. Your home base in Atacama comes with the option to go
"glamping" for one night, which is not to be missed in this renowned dark-sky zone. It's part of a journey that includes Lima, Lake Titicaca, La Paz and Santiago.