Here are answers to some of our frequently asked questions – please contact us to discuss any questions you may have!
Why work with an AWT Travel Advisor
You can book travel yourself – but why would you want to? An AWT travel advisor elevates every trip. We know how to get the best value for your time and money, and, thanks to our global connections, we can VIP you at hotels, on cruise lines, on tours, and more. With a portfolio of nearly 1,700 top hotels, cruise lines, tour operators, and more, AWT represents the best of the best in travel.
A great travel advisor…
1…takes it from ordinary to extraordinary.
An AWT travel advisor can secure special benefits that you can't get on your own, such as complimentary breakfast, spa credits, and upgrades at hotels. But we also see the nuances in every trip. From big-picture aspects (where to go – and when) to the details that matter (booking the hotel rooms with the best views, where to get the most authentic pizza on the Amalfi Coast), we know how to plan a memorable trip.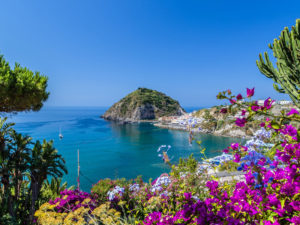 In bloom in Sant'Angelo on the Italian island of Ischia.
2…knows the world.
Just as you might use a financial planner, an interior designer, or personal shopper, it makes sense to entrust your most valuable asset – your time – to an experienced travel advisor.  The best advisors spend a lot of time on the road themselves – scouting out hotels, deepening relationships with tour guides, and finding the best restaurants and things to do.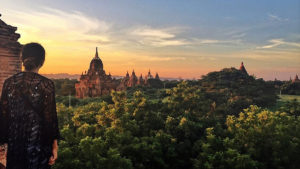 Watching the sunset over temples in Myanmar.
3…knows your travel style.
An AWT travel advisor understands what's most important to you and your traveling companions. You may want to take a cooking class or a private tour, or you may not want to leave the resort pool! Perhaps you want to use travel to educate your kids, plan an unforgettable anniversary trip, or celebrate a milestone birthday with friends and family. Your AWT travel advisor will have plenty of suggestions on what might work best for you.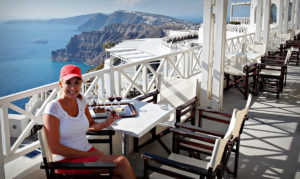 Relaxing with food and wine along the coast of Greece.
4…expands your horizons.
A great travel advisor will help you think creatively about where to go and what to do. Italy, France, and Hawaii will always be popular. But your advisor also knows the best ways, say, to see Chile, Portugal, New Zealand, and many other hot destinations – plus new ways to experience the places you've already visited. Together, you can plan your next dream trip or weekend getaway.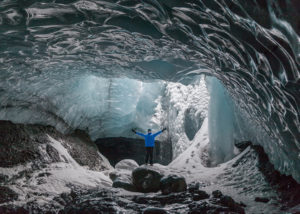 Spelunking in Iceland.

5…can handle anything.
Have you ever been on a trip where everything went exactly as planned? Right – this almost never happens. Issues are bound to pop up, and we are your personal help line and "fixer" who knows how to quickly turn things around for the better. When we follow up after your trip, you'll surely have an answer to this question: "Where do you want to go next?"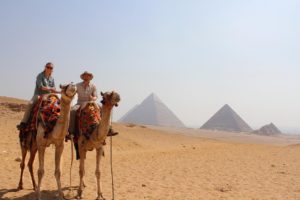 Camel ride in Egypt.
Ready to start planning? (below 2 linked to team page and inquiry form)
Does using a travel advisor cost more?
In the words of Warren Buffet, "Price is what you pay; value is what you get." While your AWT travel advisor has access to the same pricing (or in some cases lower), our first priority is to secure your reservation through a trusted source who is committed to standards of excellence. In addition, we can secure VIP benefits, amenities, and VIP access, extras you can't always get on your own. Please note, however, we are uniquely invested in your RETURN on LIFE, as your leisure time is one asset you can't earn back. Therefore, we also are seeking the best value, and that is not always the case with the least expensive "deals." AWT unapologetically charges a reasonable fee for our services, and that's good news for you! Our clients engage our services to have a dedicated professional working on their behalf.
I feel empowered planning my own travel, will using an advisor diminish this experience for me?
Decide the level of involvement that's right for you, and this may vary from trip to trip. If you enjoy research and planning, you'll have a professional partner. If you prefer having your advisor handle all the details, we can do that, too. Either way, you'll enjoy quality, customized service.
Why choose Alabama World Travel?
AWT has a team that is committed to you. We are here to help you think creatively and explore options you may not have considered. We can handle anything from securing special benefits that you can't get on your own, to streamlining all your reservations, to being your own personal help line and "fixer" if anything goes wrong. We work with trusted travel partners who are committed to the same high standards and ethics we are, providing you layers of advocacy.