Faraway islands, Aboriginal cave art and the stunning Blue Mountains.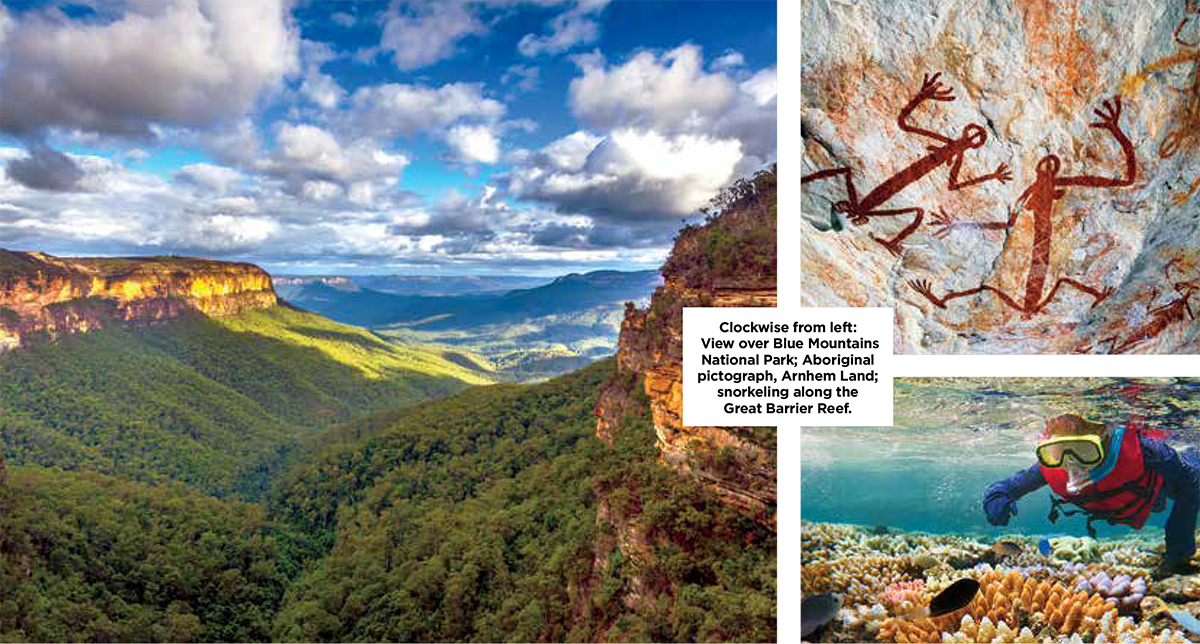 Untamed Tasmania
Take a day trip to a seldom-seen corner of southwestern Tasmania, flight-seeing along the south coast to Melaleuca (accessed only by air or water), to walk an untouched wilderness and look for rare orange-bellied parrots. A boat ride through Bathurst Harbour brings you a view of the aptly named Celery Top Islands, with a lunch of fresh Tasmanian produce and wine to round out your adventure.
Top End Travels
Through your screen-walled bungalow, take in views of the wildlife of the Mary River floodplain, relaxing to the chirps of native frogs and the calls of the barking owl. This eight-day safari to Australia's Top End region will introduce spectacular biodiversity and Aboriginal culture, from the eagles and crocs of Kakadu National Park, to the stunning rock art in Arnhem Land. Arrive and depart from the tropical city of Darwin.
Marsupials and Coral Culture
Head into the wilds of the Blue Mountains to plant a tree or help with a wombat assessment through Emirates One&Only Wolgan Valley's conservation program, or perhaps hit the spa while the kids go on a fossil hunt. This nine-day, family-focused tour starts in Sydney and spends three nights in Wolgan Valley, followed by three nights on a pristine, private island on the Great Barrier Reef.